How Business Intelligence Propels CFOs
Long gone are the days of the ancient CFO who kept the books in order, managed the budget, and looked after cash. The demands on a CFO are moving beyond the capabilities of Excel and into the capability of Business Intelligence teams and the tools they use. When coupled, a CFO and BI department is a powerful combination. The data expertise of the BI team propels a CFO to impact a great deal more of the business with their expertise than previously capable.
Stakeholders are demanding more from CFO's. With a BI team, CFO's can finally meet and exceed these requests.
How exactly can BI grow a CFO's contribution to an organization? This graphic from Linkedin presents six ways they can impact and add value at each stage of data maturity.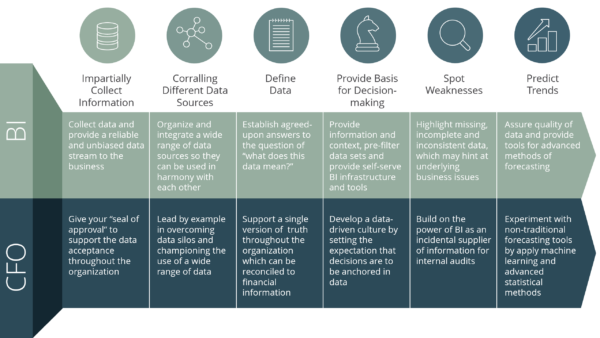 If you're ready to bring BI to your organization and need help figuring out where to start, Daasly can offer a few pointers. Schedule a complimentary discovery session today to get started. We help companies like yours transform into data-driven businesses. Our outsourced Business Intelligence solution can do it all. Let us empower your organization and demonstrate your impact to stakeholders. Want to dive deeper? We would love to help. Get in contact today.
Read the complete article that inspired this post here.